Abdildayeva Zhamal
Almaty Branch, Issyk Department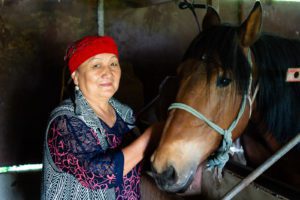 Abdildayeva Zhamal Abdrakhbayevna – is one of the most loyal customers of Asian Credit Fund. She learned about ACF for the first time in 2009 from specialists who came to the market in Baidibek Bi village, Yenbekshikazakhskiy district of Almaty region and told her about ACF and how it can help her improve her business. At the time she leased a table at the market where she was selling fruits and vegetables. Her business required constant replenishment with fresh goods and she wanted to expand the variety of goods she was selling. Zhamal made the decision to take the first microloan in her life, taking KZT 80,000 (USD 530) as part of a group with her friends at the market. At this point her long-term relationship with Asia Credit Fund was started.
She took 15 microloans over nine years and all were used to develop her business. Starting from the rented table selling fruits and vegetables, she purchased a permanent sales point, providing more security for her business location. She also opened her own stand on the highway where she sold automobile motor oil. In 2010, with ACF support she started breeding livestock for resale, as well as the sale of milk products, and also raised chickens and ducks and sold eggs.
Zhamal's spouse is a pensioner, and he actively helps his wife with her business. The value of Zhamal's business increased 12-fold during the nine years of working with ACF! As a result, her family welfare improved. She did house renovation, bought a piece of land for one of her sons. She helped the oldest son to open a business – a small service station. And the most important events for every family – she got her three sons married. At their mother's recommendation, her daughters and daughters-in-law also started to work with ACF to grow their start-up cattle breeding and trading businesses.
"I work with ACF because, first of all, their lending terms are satisfactory to me. But the most important factor is your relationship to your clients. I have a wish to do business, to grow and develop it continuously from the first day. I had small trading table at the beginning, now I have three businesses which support me and my family. I wanted to say a special thank you to the ACF specialists. They are always polite, ready to help with words and deed. ACF is as a second family for me," Zhamal Abdildayeva says.
We are pleased to hear such stories from our clients. They are encouraging, they give meaning to what we are doing and inspire us to work every day to help them achieve their goals and dreams.