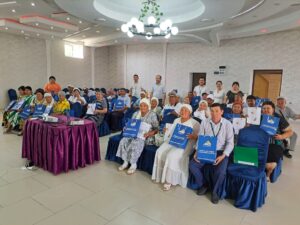 In today's world, more and more people are realizing that financial literacy is an integral part of a successful life. "A financially literate client is key to the timely performance of the loan obligations" – under this slogan, Microfinance Organization Asian Credit Fund LLP (ACF) annually conducts a series of trainings for its borrowers. Particular emphasis is placed on improving financial literacy of the clients living in the rural regions of Kazakhstan.
The first training events in financial literacy started on June 5, 2023, and covered the citizens of the Turkestan, Kyzylorda and Zhambyl regions. During the events, ACF representatives explained the principles of financial planning, which allowed people to manage their budgets and control their expenses competently, and urged the regions' residents to be responsible in lending.
The speakers paid special attention to the issues of financial literacy. The citizens of the regions were warned about the most common fraud schemes, about the increasing number of cases related to the theft of the citizens' personal data through phishing sites, fraudsters masking as the bank security services or as a buyer to obtain a loan.
"If your personal and payment data fall into the hands of cybercriminals, they can hack into your online or mobile banking and apply for loans fraudulently. You can detect the fact of illegally taking out a loan in your name using your credit history, which should be checked regularly, at least once a quarter. You can get a personal credit report from the State Credit Bureau, the First Credit Bureau, Public Service Centers, or through the egov.kz portal," warned the Agency for Regulation and Development of the Financial Market of the Republic of Kazakhstan's representatives.
Unified Pension Savings Fund JSC's representatives also participated in the training events. They told the trainees about the pension system of Kazakhstan, how to competently manage their pension savings, what are voluntary pension savings, and how to transfer the savings to the management companies.
Thirteen trainings were held from June 5 to 30 this year, covering 580 trainees. Following the event's results, the rural citizens shared their impressions about the training and obtained individual loan consultations and settlement of past-due indebtedness.
Next financial literacy training events will be held from August 14 to October 4, 2023, for the citizens of the Abay, Eastern Kazakhstan, Zhetyssu, Almaty, Akmola, Karaganda, and Ulytay regions.