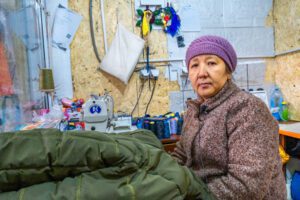 Mamayeva Nagima and Tattygul Baisalbek kyzy – are the business women from the Vira market in Yessik city. Since 2016, they have been the members of one solidarity group based on mutual help and support.
Mamayeva Nagima Utarbayevna provides the clothes fitting services. She has been a loyal ACF client for 12 years now. She got her first microcredit in 2009 to buy a new sewing machine.
"I found out about ACF from the employees who came to me to the market and told me how I could get a microcredit to develop my small business. At the time, I was renting a small container at the market and the only equipment I had was an old sewing machine. Assessing my opportunities, I decided to give it a try, and so the story of my long-term partnership with ACF started. During this time, I have upgraded my sewing machines several times to more modern ones, bought and renovated a new container, bought the materials, increased the range of the services in my clothing repair shop and moved to a new level of service by employing a sewing assistant. As the business grew, so did my income level. I was able to do home renovations and arrange my son and daughter's weddings. I am grateful to the ACF staff for explaining to me that a microcredit is good for business and life if used wisely. I am very happy to work with ACF and I constantly recommend the company to my friends."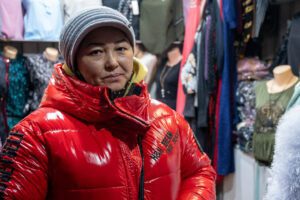 Tattygul is one of the business women who came upon Nagima's recommendation. She has been trading in the women's clothing at the Vira market for more than 10 years. She likes to work for herself because by developing her business she improves her family's living conditions.
"It is no secret that a major problem in the trade is the lack of funds to expand the range, especially during the holidays. If there is a wide range, there is good revenue; if there is no range, there will be sales, but not as much as you would like. So I got my first microcredit from ACF to buy women's holiday dresses for the New Year. Next year I wanted to expand my business, and with the help of the second ACF microcredit I bought the second sales outlet next to my container. So, every year, I purposely received microcredits, which I used only to develop my business. In 4 years, my business' equity has grown eightfold, and now I have not one outlet but four: two outlets are my own and two outlets are rented by me. I have many plans for further development. Certainly, the coronavirus has changed the plans – the market was closed from time to time. But for me, it was an opportunity to launch the sales through social media, and to arrange home delivery of the clothes to the customers. I am grateful to ACF and hope that our cooperation will continue for many years to come.