House Construction
Shelek, 2012
Meruert Ismailova is a 62-year-old resident of Lavar, a small village located 105km from Almaty. Maruert has lived in Lavar for five years, with her husband, Aytkozha, and her 10-year-old granddaughter, Zhazira.
In 2007, when Meruert and Aytkozha became pensioners, they decided to move from the crowded capital city to their native village of Lavar. The pair decided to start their own business, a food store, which they constructed on a piece of land they were able to pur-chase with their savings. In addition, the couple also began raising livestock (their small farm today consists of four cows and four calves). However, the couple's remaining funds were only enough to build a one-roomed temporary house.
Both businesses were successful in bringing a stable monthly income, which Meruert began saving for their next dream construction project – a larger, permanent family house on their land. The family was able to begin construction in June 2012, using the funds from their savings to construct the shell of the house, with additional construction being planned step-by-step, once funds were available from their monthly business income.
During this time, Meruert was an ACF group loan borrower, using the funds to help to close family budget gaps and address immediate working capital business needs.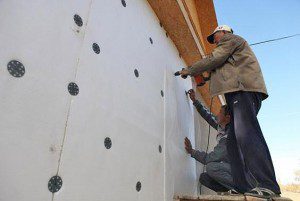 In August 2012, Meruert became aware of a new ACF product, the Residential Energy Effi-ciency Loan (REEL), while she was considering the insulation of her new home. While speaking to her ACF loan officer, Gullizar Ulpanova, she learnt how a properly insulated home can achieve a 30% increase in energy efficiency. She received information on innova-tive, simple and affordable energy saving techniques and materials from Gullizar, who her-self had recently attended a targeted training conducted for ACF lending personnel by USAID contractor, ICF International, a recognized expert in the field of energy efficiency.
Meruert successfully applied for a REEL loan from ACF, receiving USD 4,700 over 18 months, to purchase energy efficient wall and ceiling insulation and construction materials. Due to the ease with which the materials could be used, the couple decided to save funds by completing the installation work themselves.
Meruert's monthly loan payments are tailored in response to her cash flow, and are man-aged in such a way as to permit the continuation of small-scale family savings. Meruert is thankful to ACF for the financial support that she has received to complete the construction of her house, as well as the opportunity to learn about new materials that significantly im-prove the comfort of her living situation simultaneous to decreasing heating expenses.