Anissa Dayanova
Karasay village, Zhambyl region
Anissa Gikramovna Dayanova is very responsive, kind and positive woman. Anissa apa – is a pensioner, her children had grown up long ago and they live in the cities, meanwhile she continues living in her small but cozy house in Karasay village.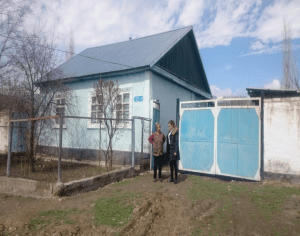 Anissa Gikramovna does not just sit at home and gets pension, she keeps household. She has a cow whose milk is processed by Anissa apa into sour cream and kurt which, in turn, are shared by her with her relatives and sold to fellow villagers. She has small vegetable garden where she grows vegetables, strawberry and raspberry for sale to the neighbours and citizens of neighbouring villages. In her free time she sews the national items for brides' dowry. She does everything this not for herself but for her children, although they are adult. She as any other mother tries to ease her children's life.
Anissa Gikramovna as a real Eastern woman continues keeping warm hearth and home for children and grandkids who visit her on holidays. She always meets grandkids with berries, sour cream, cottage cheese and fresh milk.
2016 started from difficulties for Anissa apa. The first trouble came with spring: old roof started leaking due to spring flood. But independent Anissa apa did not apply to children so that not to burden them by her problems, she applied to Asian Credit Fund where she received the microloan for roof replacement and complete consultation what materials are better to use, how much beams and screws to buy and on other issues related to roof replacement. It took 4 days only to replace old roof with the new one! Anissa apa wanted to buy goats and sheep but, as they say, trouble comes in threes … Her favourite cow damaged the leg and Anissa apa had to sell cow. Anissa apa added money remaining from the microloan to money earned from meat sale and bought a new cow so that to please her family with home milk products further. But Anissa Gikramovna continued dreaming about goats. She decided to buy goats at the expense of the next microloan which she will get in ACF so that her beloved grandkids who will come in summer would drink especially useful goat milk.
History of Anissa apa is not only interesting but educatory. To the questions of neighbours: For which purpose do you do this? Why do you need this all? You are alone, do you need much? Anissa Gikramovna always answers: Sewing, my cow and my garden is my favourite business, I got accustomed to work always and I want to be useful even being retired.