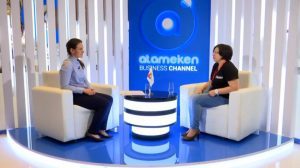 The management team headed by the Executive Director of Microfinance Organization Asian Credit Fund LLP (hereinafter referred to as "ACF")  Zhanna Zhakupova  participated in the largest conference for microfinance and financial technologies companies "Risk Challenge Micro 2017" held on 21 April in Almaty, Kazakhstan.
"Risk Challenge Micro 2017" is the annual specialized conference for the microfinance professionals of Kazakhstan organized by the First Credit Bureau. In 2017 "Risk Challenge Micro" Conference was held under the name of "Digital Kazakhstan". Within the frameworks of the Conference, two working sections was organized: section of financing and section of financial technologies and innovations. The issues of microfinance market (online and offline), innovations in homebuilding savings and banking sector, payment innovations, new marketing and business-opportunities for the market, tools to minimize loan risks were highlighted at these sections as well as many interesting themes in the financial technologies section.
ACF Executive Director participated in the panel discussion "MFI funding in Kazakhstan" where the members of the discussion paid attention to importance of MFI support by the international funding companies. She shared history of MIV (microfinance investment vehicles) development, ACF experience in attracting funds and outlined the main benefits for MIVs of investing in MFIs in Kazakhstan.
Upon completion of the Conference Ms. Zhakupova gave interview to "Atameken Business Channel" where she told about the activity of Asian Credit Fund, tendencies at the microfinance market and ACF readiness to use advanced technologies. In particular, she mentioned that currently ACF is piloting the innovation project on mobile payments and scoring. The interesting theme on identification of the potential and current borrowers was discussed. Ms. Zhakupova noted that microfinance tendencies are developing so that a borrower does not need to come to the office to apply for a loan since MFIs can use remote identification of different types. However, development of such financial services directly depends on MFIs readiness to change and the appropriate amendments to be introduced into Kazakhstan legislation.