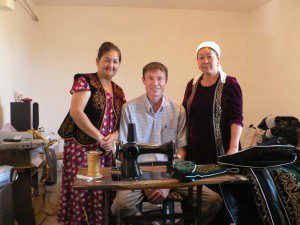 Group Loan
Crafts
Zhambul, 2010
A group of craftswomen, Mairam, Zeinep, Azhargul and Dzhanigul, first heard of ACF through friends experienced in borrowing with the organization. After some initial research into interest rates and monthly payments, the group visited the ACF Zhambul office in June 2009. Upon agreeing favorable terms and conditions with an ACF representative, the group took their first small loans, of per group member.
Despite being involved in the same crafts business, each group member used their loans for different purposes:
Mairam used the additional funds to increase business capacity, by purchasing a new sewing machine and hiring her first assistant.
Zeinep purchased substantial quantities of fabric for a new, large order.
Azhargul and Dzhanigul expanded their range of costume accessories.
All funds from the first cycle were used to bring stable growth to the business. As a result, the group was able to borrow a larger amount, USD 800 per borrower, on the second cycle.
The group has now been working with ACF for almost one year, with only positive comments on this mutually-beneficial, professional relationship. ACF is so happy to see its role as a reliable financial partner for many rural women in Kazakhstan being realized.