Almaty branch, Uzynagash Office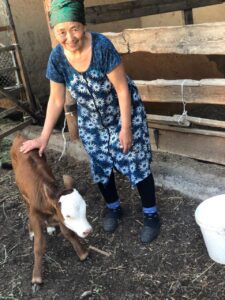 Ms. Azhurtchieva is one of the loyal ACF clients. For nine years Balgyz has been working with our company and has become an unofficial relative to the employees of Uzynagash office.
Balgyz and her husband are pensioners, but the quiet life is not for them. After retirement, Balgyz and her husband opened a small grocery store near their home. "The trade was going well, but I always wanted to be involved in agriculture. We had a few head of cattle but I wanted to have my own small farm" she says. In 2011 she discovered ACF and took a small microloan to buy sheep. During nine years working with ACF, Balgyz used five microloans to purchase livestock. Today we are happy to say that her dream has come true. Her small farm how has 150 sheep, 26 cows and 12 horses. And during that time Balgyz managed not only to increase the number of livestock, but also make repairs and build additional premises for her livestock. She admits that animal husbandry is not easy, but the result is worth it. All of her work is for the sake of her dream and beloved children and grandchildren, who always need her support.
In cooperation with ACF, Balgyz grew her livestock numbers and her own net worth, but also improved her housing status. Between 2016 and 2018, she received five Housing and Energy Saving Microloans from ACF. What is a reasonable way to spend money on increased energy efficiency to achieve not just comfort, but also lower heating costs? Balgyz approached this issue very practically. First, she decided to reduce the heat loss of her house by insulating the walls and ceiling. Balgyz knew that such a low cost investment would reduce heat loss at home up to 50%! A new heating system marked the completion of the process of improving the energy efficiency of her home.
Currently, Balgyz and her husband continue breeding livestock while selling meat and dairy products to wholesale buyers in Almaty. "With ACF microloans, I was able to implement everything I wanted. I see many advantages to working with ACF. Microloans are issued without fees and commissions. I can repay ahead of schedule and not worry about excessive interest or fines. And I can make repayments not only through the cash desks but also through terminals. But the most important thing for me is that I can create a repayment schedule exactly for me, to meet the needs of my seasonal business! I am happy that ACF exists. I am grateful to the ACF employees who are always interested in my life and my projects and happy to help me at any time!"