Almaty branch, Shelek Office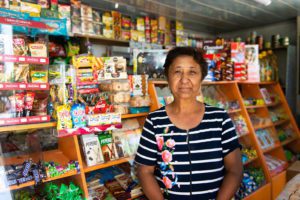 For ACF, success is first of all, the success of our customers. Today we would like to share the story of success of Khalyam Tokhtakhunova, a customer of our Company for the last 6 years.
Khalyam came to the ACF office for the first time in 2013. One of ACF's active customers told her that our Company supported agricultural entrepreneurs not only financially but also advised on business development. In 2013 Khalyam ran a small business in Baisseit village where she sold food products. She applied to ACF for a group microloan for KZT 200,000 to expand her business. Thus, the story of a long-term successful business relationship between Khalyam and ACF began.
Over the course of a six year collaboration, Khalyam applied to ACF for microloans to develop and expand her business. Starting from a small stall, she expanded her business by purchasing a larger, pavilion-type stall, which was better for selling and storing her food products. Later, to diversify her business, Khalyam bought a 20 tons container where she started selling cattle feed. Both of her businesses are along the Almaty-Narynkol road which is also the nationwide highway. This road leads to some of the main tourist destinations, including Charyn Canyon and Kolsay Lakes, and it is one of the main highways to Kyrgyzstan. As a result, Khalyam had no lack of customers.
Khalyam controls the business herself, with help from her husband and daughter when needed. She instilled her love of business to her daughter, who started preparing samsa (national Kazakh food) on an individual order basis. In addition to the business, the family also breeds cattle and has 3 calves and 3 milk-cows, supplementing their income by selling milk to "Food-master", the largest milk company in Kazakhstan.
During the time she has worked with ACF, the capital of her business increased more than 10 times, (from KZT 300,000 to 3,5 mln.) having a favourable impact upon her family and allowing her to build a new house for her family. In 2017, Khalyam received a housing microloan with energy-efficient elements, including a "Smart furnace" for heating, which will help her significantly reduce her expenses for coal in winter. Her family plans to celebrate with a house warming in the summer of 2019 and they are also thinking about applying for a microloan from ACF to buy furniture.
"I started my business with ACF and it is now the great success of my life. I like our cooperation very much. Thanks to ACF financing and the basics of financial literacy course I joined with ACF, I currently have a profitable business. The welfare of my family was also improved thanks to the support of ACF. Thank you, ACF!"