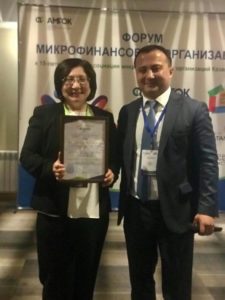 26 April 2019. The General Meeting of the members of Kazakhstan Microfinance Institutions Association (AMFOK) was held in Almaty city. The results of the Association activity for 15 years of existence were summarized there. The Board of the Directors of the Association was elected and the goals and tasks of the Association for the forthcoming period were approved at this Meeting.
Upon completion of the Meeting the Association awarded the best microfinance institutions. Asian Credit Fund, one of the leaders of the microfinance market, received acknowledgement for "Contribution to Development of Microfinance Sector of the Republic of Kazakhstan" and letter of recognition for "Adherence to the Principles of Customers Social Protection".
Asian Credit Fund has been operating at Kazakhstan microfinancing market for over 20 years. Asian Credit Fund helped 70 898 customers to make their dreams true to the total amount of 128.1 million US Dollars since program launch in November 1997 till 31 March 2019. Currently, ACF is included into the ten largest MFIs in Kazakhstan.
Guided by its mission of increasing the level of quality of rural population life, ACF provides both financial and non-financial services. Thus, since 2016 ACF has started forming awareness of rural areas women that they can gain income from their hobby, inspiring women to open own business or extend existing business by means of ACF financial support and completing different non-financial trainings. During 3 years, with the help of trainers-practitioners, ACF has trained 761 customers on the skills of business opening with minimum investments. And more than 42,600 customers completed trainings within the framework of ACF Project "Plan Your Future" in which they acquired the skills of family budget management.
ACF was always interested in provision of qualitative and affordable services to Kazakhstan population. Therefore, in 2017 ACF was successfully certified by private and independent international rating agency MicroFinanza Rating under Smart campaign program and became the third MFI in Kazakhstan which applies the standards of customers' protection in the entire activity of the institution. In 2018 ACF passed international social rating assessment by MicroFinanza Rating. Following the results of activity, sBB+ rating was assigned to ACF. ACF Executive Director Zhanna Zhakupova said, "We trust our customers and want our customers always trust us as a responsible financial partner who protects our customers." In 2019 ACF plans to complete certification repeatedly and to confirm its adherence to Smart campaign principles.