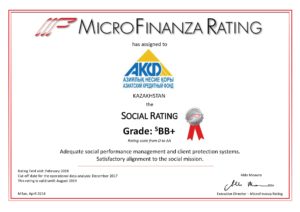 Asian Credit Fund (ACF) was subject to social rating assessment by MicroFinanza Rating (MFR) Rating Agency in April 2018. Following the results of 2017 activity, ACF was assigned sBB+ social rating. Currently ACF is the third organization out of 174 microfinance organisations in Kazakhstan which confirm the commitment of the company to social goals and balance between social and financial activity by obtaining the international social rating.
Social rating is the external, reliable and responsible assessment of the institutional capacity of the microfinance organizations related to practical implementation of their social mission and achievement of the social goals. Social rating plays a key role in strengthening of the social responsibility of the companies and increasing transparency and efficiency at the microfinancing market.
According to MFR, Asian Credit Fund has an adequate social performance management and client protection systems as well as satisfactory alignment to the social mission.
Summary of the social report is available on ACF's web-site in the section "Achievements-Rating".