Ayagoz, Semei Branch
Ms. Altynzhan Ayazbaeva, 59, lives in Ayagoz town, in the Semei region of eastern Kazakhstan.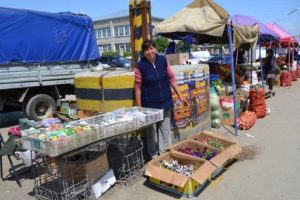 She is a pensioner who runs a fruit and vegetable stand along the main street of her town. Altynzhan sells seasonal fruits and vegetables like apples, carrots, potatoes, cucumbers, tomatoes and onions. During the Spring, she also sells seeds and seedlings for local household gardens. She always strives to have high quality goods and an assortment to meet her customers' expectations. She has borrowed from ACF, utilizing its good loan product for three years to support her tiny business. Altynzhan was in the middle of her second $1,400 loan, taken for 12 months for and used for working capital when she was invited to participate in one of ACF's free business development training sessions. The topic of the training was strawberry growing. In the course of the one day training event, the ACF Trainer together with a local practitioner, instructed 20 participants, mainly ACF active clients about growing strawberry techniques.
Altynzhan had a small cottage with a garden, a "dacha" where she was growing potatoes, carrots and cucumbers. While she saved part of her harvest for her own consumption, the rest she sold from her trading stall. Coincidentally, Altynzhan was also thinking about growing strawberries in her garden to diversify her mix of products. Some strawberries were brought in by truck but were expensive due to the high transport cost, making them out of reach for the average local consumer. While strawberries were usually considered as delicacies by many local people, there was demand and they could be grown locally. Strawberries require sun, water and care. Thus, inspired by ACF and a local trainer, she chose to pursue her idea to grow strawberries locally. The following Spring, Altynzhan planted her first 200 strawberry plants, following the techniques taught by the ACF trainer. The strawberry crop sold quickly, providing her with additional funds to supplement her pension. She continues as an ACF client recently taking her third group loan for working capital.